The man who created the fanciful rotundity that has graced the art realm with the exaggerated "gordas" and relaunched the neo-figurative movement, Colombian-born global artist Fernando Botero died last week at 91 leaving a prolific body of work and an indelible mark on the world of art. 
Born in 1932, Botero sparked controversy and critical debate throughout his decades-long career with his distinctive approach to the human form. Rendered in oils or as sculptures, his subjects were frequently depicted with inflated, almost balloon-like proportions. 
The peculiar rotondité of his art, his voluptuous figures, played a pivotal role in a new thrust of the Neo-Figuration movement that originated in Argentina and Brazil in the late 1950s and early '60s as a reaction against abstract art and non-representational styles, particularly abstract expressionism. 
Botero reintroduced recognisable and representational imagery into contemporary art. His reinterpretation of the human form and return to figurative art challenged the dominance of abstraction in the art world. 
The surge of his work reignited interest in human themes and representations influencing the art world and allowing artists to explore social and political themes in new ways, reaching across Latin America and Spain in the '60s and '70s, redefining beauty and art.
His influence extended beyond borders, inspiring Latin American artists and contributing to a global resurgence of figurative art. His social commentary through satirical depictions reinforced Neo-Figuration's narrative-driven ethos. Botero's unique style and themes solidified his significance within the movement, revitalising the power of figurative art in contemporary contexts. While he exaggerated and distorted the human form like the French neo-figurative artist Jean Dufuffet, Botero's art is a smoother, much more polished aesthetic compared to the often simpler, raw work of Dubuffet.
Likewise, while another French neo-figurative artist, the impactful Jean Fautrier, distorted his figures through mutilated and featured faces obscured by thick impasto, Botero's works express a wider range of emotions in smooth strokes.
His exaggerated realism was distinctively away from the influence of Picasso's Cubism and Surrealism that characterised the British neo-figurative artist Francis Bacon. In clear contrast to another neo-figurative artist, the Swiss sculptor Alberto Giacometti whose human figures seemed ravaged by existential angst, Botero's fuller, rounder figures expressed a contrasting sense of indulgence and sensuality. 
The Medellin native created an instantly recognisable aesthetic that made the human figure alluring and accessible in a unique way among modern artists.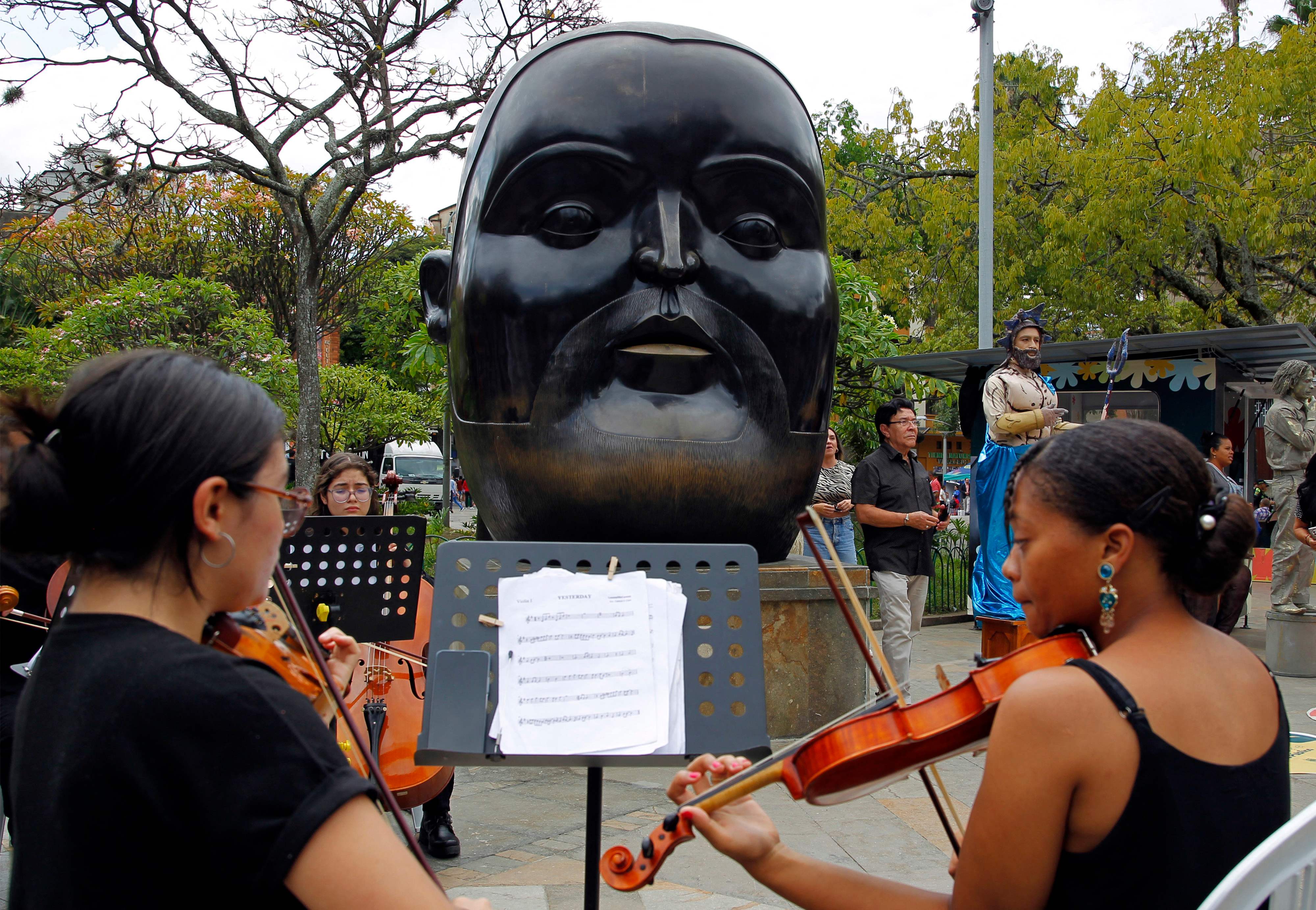 Musicians play in front of the sculpture "Cabeza" (Head) by Colombian artist Fernando Botero, at the Botero Square in front of the Antioquia Museum in Medellin | AFP
As his paintings increased in scale in the '70s, Boteros's sensuous figures took on monumental, imposing proportions. Yet they retained a surprising lightness and accessibility. His voluptuous forms celebrating the fullness of life struck a chord with audiences across the globe.
By the time museums dedicated shows to his work in the '90s. Botero had cemented his reputation as one of the most internationally recognised living artists. He continued creating into his final years, prolific and unrelenting. 
The sheer breadth of Botero's work, encompassing painting, sculpture, drawing and printmaking across more than six decades, tells the story of Botero's passion for his country, earning him the title of "the most Colombian of Colombian artists."
His unconventional notions of beauty and proportion persist long after his exaggerated style ceased to shock; his art continues today to reveal emotion and humanity in even the most unlikely subjects.
Botero's art was accepted worldwide and was exhibited in prestigious museums such as the Metropolitan Museum of Art in New York, the Musée Maillol in Paris, and the Hermitage Museum in St. Petersburg.
His most famous paintings and sculptures include: "The Mona Lisa, Age Twelve," This painting is a parody of Leonardo da Vinci's famous painting, and it features a young girl with exaggerated features and a whimsical expression. The painting challenges the traditional notion of beauty and proportion, and it highlights Botero's unique style.
The sculpture, "The Bird," a large bronze bird that is located in the center of his natal city of Medellin. It is a symbol of the city and its people, and Colombians say it represents Botero's passion for his country and its culture.
In Spain, the city of Málaga has an entire museum dedicated to his art. It has 84 paintings, sculptures, and drawings by Botero in its permanent collection. Botero also has prominent public sculptures in Madrid and other Spanish cities.
Around the world, his work is in public art in cities like New York, where his sculpture "Man on Horseback" can be seen at Park Avenue and 72nd Street in Manhattan.
In Paris, the prominent Jardin des Tuileries features Botero's "The Roman Soldier" sculpture, among others. In la Piazza della Signoria in Florence, Italy visitors can see his bronze statue of "The Rape of Europa".
In Singapore Botanic Gardens his sculpture "The Bird," is also displayed and in Jerusalem, "Woman with a Mirror," can be found at the Israel Museum.
The Nusretiye Clock Tower Square in Istanbul features Botero's sculpture titled "Circus," and in Abu Dhabi his "Horse" sculpture is part of the public art collection on Saadiyat Island.
Botero's impact on the art world was profound, and his contributions to the development of Neo-Figuration in Colombia were significant. 
"He was and will be one of the most representative artists of Colombia in the 20th century," said Colombian art aficionado Carlos Strella, speaking with THE WEEK from the northern coast city of Barranquilla. 
"His art will continue to inspire and challenge the world, and his legacy will be remembered for generations to come. He leaves an impression on all of us."