SSVM Institutions successfully organised the 2nd edition of the eclectic and electrifying "Transforming India Conclave-2023" on the idyllic premises of SSVM World School in Coimbatore from September 1 to 3, 2023.
The conclave inspired the students to unleash their inner potential, give wings to their imagination, indulge in creative pursuits, take lessons from the experiences of real-life heroes, innovate, cultivate out-of-the box thinking, pursue their passion, all while coping with academic requirements.
The SSVM Group of Institutions, a front runner in school education in this part of the country, had pioneered the first ever venture of Transforming India Conclave in 2022. Now, the annual conclave has become the flagship event of the institutions.
The theme of the current year's edition of the conclave was "Unleash the power within you." This was intended to nudge the students to have self-esteem, self-worth, self-belief, and shed the shackles of constricted atmosphere to launch themselves into a world of possibilities and opportunities. The conclave opened up new vistas for students to think new thoughts and explore new avenues and expand into new horizons.
Speaking at the inaugural session, Founder of SSVM Institutions Dr Manimekalai Mohan said "The school is the right place and right time to sow the seeds of transformation. The idea will take firm roots in the young minds and grow with them to elevate them to pinnacle of glory ".
The chief guest of the inaugural function Lt.Gen.Ajai Kumar Singh, General Officer Commanding-in-Chief, Southern Command, Indian Army said "India is currently in the phase of transformation and the fourth country to achieve a soft landing on the moon.
For the transformation to take place in the country, each individual has to transform significantly". He also praised the SSVM Institutions for having organised an event at a scale that even a university would not think of.
In his keynote address, Mr Sonam Wangchuk, an innovator, engineer and education reformist graphically explained how he transformed the educational and cultural scenario of Ladakh, the Trans Himalayan region, against all odds. He demonstrated how man-made glaciers could be created using simple principles of Maths and Science to protect environment and overcome water scarcity.
Highlights of Day 1 are available at : https://youtu.be/qpJm0ToD3wc?si=bdKuzkMjqIvfZiaD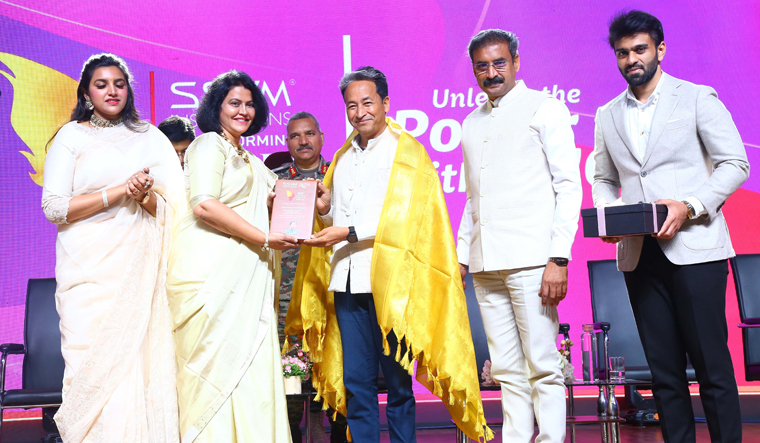 There was an impressive line-up of stellar speakers who have made a mark in their respective fields. They candidly shared their real life story—filled with pitfalls and failures, and how they bounced back to reach dizzying heights.
Bureaucrats like Coimbatore District Collector Thiru Kranthi Kumar Pati and Coimbatore Municipal Corporation Commissioner Thiru M.Prathap, and Commissioner of Police Thiru V.Balakrishnan too inspired the students by sharing theirexperience. There were inspirational talks on kaleidoscopic topics: Mr Krish Ashok spoke on "Lifestyle today," Ms Shaheen Malik & Mr Choudhary Ali Zia Kabir on "The Comeback," Mr Manu S.Pillai on "Role of History,", Dr Preethi on "Pad Woman of Tamil Nadu," Mr Saransh Goila on "Passion Profession," Mr Kishen Das on "Content is King," Mr Aman Gupta on "Marketing Mania," Ms Vidyullekha Raman on "Taboo Talks," and Mr Rannvijay Singha on "Gen Z Era." Child prodigy Meghna Sumesh and Student prodigy Dr K.Visalini defined their talents, and Ms Geeta Ramanujam demonstrated the importance of "Story Telling" skills.
Captivating workshops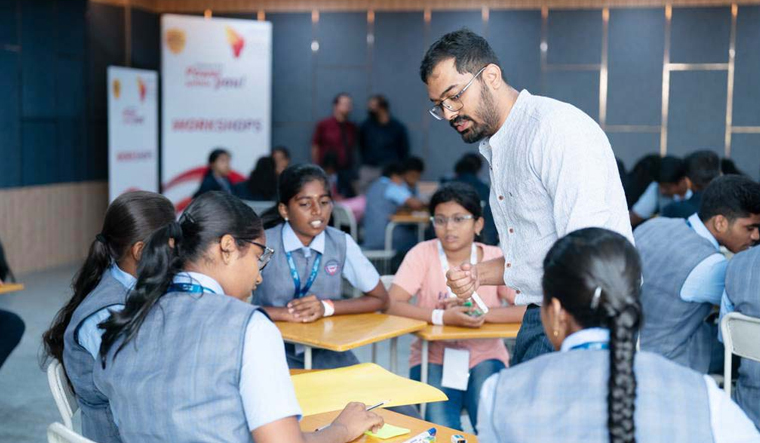 There were 13 workshops on diverse topics such as Culinary Arts by Ms Aanchal Chetan, Minimalist Living by Ms Durgesh Nandhini, Stand-Up Comedy by Mr Badava Gopi, DJ by Mr Kunal Jain, Make your Music by Mr Leon James & Ms Charumathi, Digital Marketing and Media by Mr Sorav Jain, Design Thinking by Mr Roshan Raju, Unlock Creativity by Mr Harun Robert (ROB), Resin Art by Ms Sabari Girija, Performing Arts by Mr Jaytesh, DIY Make-up by Ms Yegammai Vijay, Storytelling by Ms Geeta Ramanujam, and Financial Literacy by Ms Shreyaa Kapoor were designed to open the minds of students to a new world.
Highlights of Day 2 are available at : https://youtu.be/nL3tkRcYZLg
Studentpreneur Awards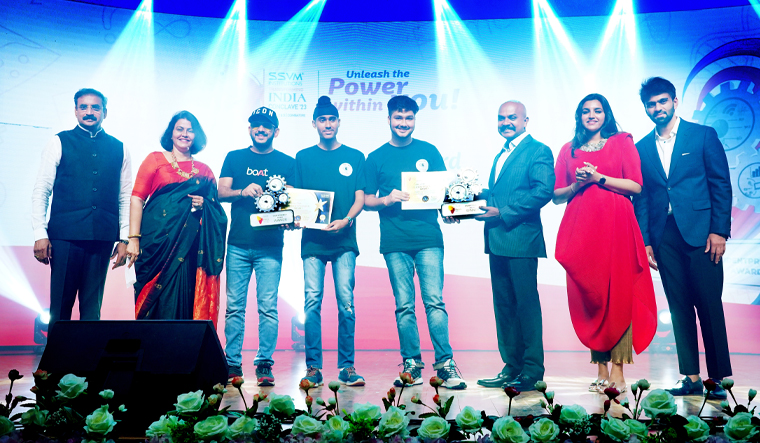 As a part of the Conclave, a contest was held at a national level to promote entrepreneurship among students "Studentpreneur Awards" were distributed along with a cash prize, Rs 1,00,000 was bagged by the winners, Emerald Heights International School, Indore and 75,000 was taken home by the first Runner-up, The Shriram Universal School, Chennai and Rs 50,000 to second Runner-up Reeds World School, Coimbatore. Also, Social impact special award was given to Ruh Continuum School, Coimbatore.
Honouring Gurus
SSVM Institutions which believe in the unique role of Teachers also conferred the Inspirational Guru Awards on 25 Best Teachers from all over the country Mr S.Mohandoss, Trustee, Ms Srisha Mohandoss, Director of Education and Mr Nitin Jey, Director of Infrastructure, vividly explained the objectives of the conclave. An array of cultural events showcased talents and enthused the audience.
Highlights of Day 3 are available at : https://youtu.be/fN5cdQhvH18